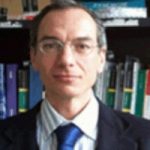 Stefano Goldwurm
Position: Biobank Director
Organisation: Stefano Goldwurm
Area of work: Biobanks

Member of:
Contact information:
Email

Website

Address: Parkinson Institute, Istituti Clinici di Perfezionamento, Via Bignami 1 , Milano, 20126, Italy

Background:
Stefano Goldwurm graduated in Medicine in 1991 at the School of Medicine of the University of Milan, Italy. He obtained a Doctor in Philosophy (PhD) in 1997 at the University of Queensland, Brisbane, Australia. He obtained a Diploma of Postgraduate Specialisation School of Medical Genetics in 2001. From 2002 he is working as Clinical Geneticist at the Parkinson Institute of Milan, Italy. His main interests are molecular genetic research on Parkinson Disease and related disorders. He is particularly involved in the study of known and new genes involved in Parkinson Disease. He is also interested in genetic counselling and presymptomatic testing for neurodegenerative diseases. He is director of the Biobank of the Parkinson Institute ("Parkinson Institute Biobank" www.parkinsonbiobank.com). In this Biobank, biological sample of patients affected by movement disorders, mainly Parkinson Disease, are collected and made available to researchers.