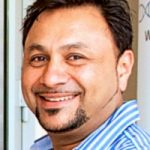 Matt Bellgard
Position: Professor
Organisation: Centre for Comparative Genomics, Murdoch University
Area of work: Bioinformatics

Member of:
Contact information:
Address: 90 South Street , Perth, WA 6150, Australia

Role in RD-Connect:
Co-leads the Australian consortium in RD-Connect.
Background:
Professor Matt Bellgard is Director of the the Centre for Comparative Genomics at Murdoch University which promotes collaborative understanding within and across fields of study. Professor Matt Bellgard has developed expertise in the areas of comparative genomic analysis, computational biology, molecular evolution, bioinformatics, integrated system development and pattern recognition. The Centre has four research themes: Personalised Medicine, Animal Health, Food Security and High Performance Computing. He is also Director of iVEC@Murdoch that houses the 2nd largest supercomputer in Australia (ranked #87 in the world in June 2011) and is Convenor of the Australian Bioinformatics Facility (ABF) which is one of four national platforms of the NCRIS 5.1 Evolving Biomolecular Platforms and Informatics Investment plan.