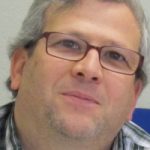 Javier Alonso
Position: Head of Human Genetic Branch. Area Manager
Organisation: Instituto de Salud Carlos III
Area of work: Biobanks, Registries

Member of:
Contact information:
Address: Instituto de Investigación de Enfermedades Raras (IIER), Melchor Fernández Almagro, 5 , Madrid, 28029, Spain

Phone: +34 91 822 3217

Background:
Head of the Human Genetics Department and the Pediatric Solid Tumor Unit of the Institute of Rare Diseases Research (IIER), Institute of Health Carlos III (ISCIII). Graduate (1989) and PhD (1995) in Biology by the Universidad Complutense de Madrid.
He starts up in 1999 the Spanish reference laboratory for the molecular diagnostic of Ewing's sarcoma and Retinoblastoma. In the last years he has been principal investigator of 10 research projects in the field of the genetic and rare pediatric cancers such as Ewing's sarcoma and Retinoblastoma.
He has published more than 30 articles in peer review journals and several book chapters related to genetic, cancer pediatric, and kidney and vascular diseases.