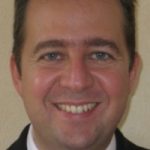 George Patrinos
Position: Assistant Professor of Pharmacogenomics and Pharmaceutical Biotechnology
Organisation: University of Patras
Area of work: Bioinformatics, Impact

Member of:
Contact information:
Email

Website

Address: Laboratory of Molecular Biology, University Campus, Rion , Patras, GR-26504, Greece

Role in RD-Connect:
George works on the development of the Electronic Pharmacogenomics Assistant (ePGA) - a bioinformatic tool helping to analyse gene variant-drug interactions. He is also engaged in dissemination of the project in the EU priority areas and beyond, e.g. by organising the Golden Haelix Symposia.
Background:
George obtained his PhD in Molecular Biology and Genetics from the University of Athens (Greece). He currently serves as Assistant Professor of Pharmacogenomics in the University of Patras (Greece) and he is Greece's National representative in the Pharmacogenomics working party of the European Medicines Agency (EMA, London, UK). His research interests involve pharmacogenomics for blood and neuropsychiatric disorders, transcriptional regulation of human fetal globin genes and genotype-phenotype correlation in human genetic disorders. His group also has a keen interest in developing National/Ethnic Genetic databases to document the genetic heterogeneity in different populations worldwide and the implementation of pharmacogenomics in developing countries, particularly in Europe.
George is the Editor of the textbook Molecular Diagnostics (Academic Press). He serves as Communicating Editor for Human Mutation and he is one of the co-organizers of the international meeting series Golden Haelix Symposia and "Golden Helix Pharmacogenomics Days".