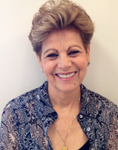 Yaffa Rubinstein
Position: Rare Disease Patient Registries and Bio-repositories specialist
Organisation: Yaffa Rubinstein
Area of work: Biobanks, Registries

Member of:
Contact information:
Address: 8600 Rockville Pike, Bldg. 38 Rm.2S15 , Bethesda, Maryland, 20892-2128, USA

Role in RD-Connect:
Yaffa Rubinstein actively collaborates with RD-Connect on documentation for meeting posters, article publications, and conference calls/discussion regarding terminology, quality of data, standards/common data elements (CDEs) for patient registries and biospecimens.
Background:
Yaffa was trained as a molecular biologist and received her M.S. from the Weizmann Institute /Hebrew University in Israel and her Ph.D. from the University of Maryland, College Park. She completed her postdoctoral studies at the National Cancer Institute. Subsequently at the NCI, she was the program director for the Cooperative Human Tissue Network (CHTN). She developed the former programs The Global Patient Registry Data repository (GRDR) and the RD-HUB-a biospecimens database, while at the Office of Rare Diseases Research at the National Center for Advancing Translational Sciences (NCATS)/NIH, which she served as its program director for about 8 years. She continues her international activities in the arena of patient registries, CDEs and biospecimens. As a member of the International Society for Biological and Environmental Repositories (ISBER), she serves as the co-chair for the International Specimen Locator and the Rare Diseases working groups. Additionally, she is a member of the PCORI rare disease advisory panel. Recently she retired from ORDR and joined the National Library of Medicine as a special volunteer/specialist for rare diseases patient registries and biospecimens , co-leading the Data Science special interest group and assisting in areas of CDEs, standard terminologies and infrastructures for clinical data collection.