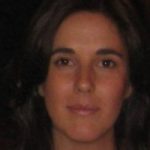 Verónica Alonso
Position: Head of RD Epidemiological Unit
Organisation: Instituto de Salud Carlos III
Area of work: Biobanks, Registries

Member of:
Contact information:
Address: Instituto de Investigación de Enfermedades Raras (IIER), Melchor Fernández Almagro, 5 , Madrid, 28029, Spain

Phone: +34 91 822 2089

Background:
Researcher at the Institute of Rare Diseases Research (IIER), Institute of Health Carlos III (ISCIII) since 2008. Graduate and PhD in Biology by the ComplutenseUniversity of Madrid. Researcher at the School of Biology (2002-2006) and School of Medicine (2007), Complutense University of Madrid; researcher at La Paz University Hospital (2003-2004) and Príncipe de Asturias University Hospital (2006); visitor researcher at the Institute for Anthropology, University of Vienna (Oct-Dec 2005).
She has been involved in different European and national projects, such as SpainRDR, E-RARE, EuroBioBank, BURQOL-RD, EPIRARE, financed by the IRDiRC, European Framework Programme or DG SANCO. In the field of Rare Diseases (RD), she has been part of the Biomedical Network Research Centre for Rare Diseases (CIBERER) since June 2008 and she works in some aspects of the epidemiology of RD, such as morbidity and mortality. She also works on the national registry of patients with RD, searching for relevant scientific information and coding rare diseases under the International Classification of Diseases 9th and 10th revision.