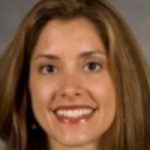 Vanessa Rangel Miller
Position: VP Genetic Services
Organisation: PatientCrossroads
Area of work: Genomics Platform, Registries

Member of:
Contact information:
Address: 180 Warren Road , San Matteo, CA 94401, USA

Phone: 1-404-432-8488

Background:
Vanessa joined PatientCrossroads in 2010 as VP Genetic Services, guiding clients to develop, manage and curate new registry programs. As a certified genetic counselor, Vanessa has focused her career on the rare disease community. Prior to joining PatientCrossroads, she managed the DuchenneConnect and Congenital Muscle Disorders Registries; and was the Operations Manager at Emory Genetics Laboratory, a non-profit academic genetic testing laboratory that serves rare disease clinicians and families worldwide.
Vanessa serves on the Program Committee for the American College of Medical Genetics, the finance committee for the American Board of Genetic Counseling, and previously served on the TREAT-NMD Registry Oversight Committee and Congenital Muscle Disease International Registry Advisory Board. Vanessa completed her masters in genetic counseling at the University of North Carolina – Greensboro and her MBA at Emory University.