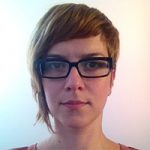 Theodora Katsila
Position: Senior Research Fellow and Academic Scholar
Organisation: University of Patras
Area of work: Bioinformatics, Impact

Member of:
Contact information:
Address: Laboratory of Molecular Biology and Immunology, Pharmacogenomics group, Department of Pharmacy , Patras, 26504 Rio, Greece

Background:
Dr. Katsila currently serves as a senior research fellow and academic scholar in the Pharmacogenomics and Personalized Medicine group in the University of Patras, Greece. Her research focus spans pan-omics strategies coupled to information technologies towards better-informed decision-making, genotype-to-phenotype correlations as well as inter-individual variability in drug response/toxicity and disease phenotypes. Sharing both academic and industrial research experience, Dr. Katsila has an interdisciplinary expertise. Dr. Katsila is an active member of both RD-Connect (Electronic Pharmacogenomics Assistant; ePGA) and the Greek National Genetic database consortium.