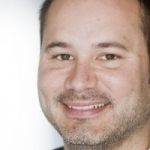 Sergi Beltran Agulló
Position: Bioinformatics Analysis Group Leader Data Analysis Team Leader
Organisation: Centro Nacional de Análisis Genómico
Area of work: Genomics Platform

Member of:
Contact information:
Email

Website

Address: Baldiri Reixac, 4 , Barcelona, 08028, Spain

Role in RD-Connect:
Background:
Sergi Beltran studied Biology at the University of Barcelona and obtained a PhD in 2006 at the Genetics Department of the same University.
During 2005 he worked at the Transcriptomics Platform of the Barcelona Science Park, and in 2006 he joined the Bioinformatics and Genomics Research Group at the Center for Genomic Regulation (CRG).  From 2007 to 2011 he set up and managed the Bioinformatics Unit at the Scientific and Technological Centers of the University of Barcelona. During that period he organized the Unit to cope with the high throughput sequencing data generated in-house and collaborated in several projects which led to international publications.
Sergi Beltran joined the CNAG in 2012; he is the Group Leader of the Bioinformatics Analysis Group and leads the Data Analysis Team.