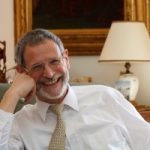 Rainald von Gizycki
Position: Honorary President
Organisation: PRO RETINA Deutschland e.V.
Area of work: Patient engagement

Member of: Patient Advisory Council (PAC)
Contact information:
Email

Website

Address: Vaalser Str. 108 , Aachen, 52074, Germany

Role in RD-Connect:
Rainald is a member of the RD-Connect Patient Advisory Council (PAC).
Background:
Rainald worked for several years as a project leader and researcher in Technology Management and Assessment at various research institutes before moving in the areas of rehabilitation research patient empowerment in retinal and rare diseases at Charité clinics in Berlin. He is the founder, former chairman and currently honorary president of the German organisation, PRO RETINA and also serves on the board of Pro Retina Foundation Fighting Blindness. Rainald has been the coordinator of Retina Europe.