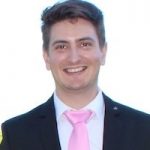 Pedro Sernadela
Position: Software Engineer
Organisation: University of Aveiro
Area of work: Bioinformatics

Member of:
Contact information:
Email

Website

Address: nstitute of Electronics and Telematics Engineering of Aveiro (IEETA) , Aveiro, 3810-193, Portugal

Role in RD-Connect:
Pedro has been involved in the RD-Connect project since 2014, developing advanced bioinformatics tools and systems using Semantic Web technologies for the rare disease community.
Background:
Pedro is a Software Engineer who has worked at the University of Aveiro's bioinformatics group since 2012. His main research interests include Biomedical Data Integration algorithms and Linked Data applications.