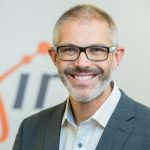 Niklas Blomberg
Position: ELIXIR Director
Organisation: ELIXIR
Area of work: Management

Member of: Community Executive Committee (CEC)
Contact information:
Email

Website

Address: Wellcome Trust Genome Campus , Hinxton, CB101SD, UK

Role in RD-Connect:
Dr Niklas Blomberg is a member of the Executive Committee of the RD-Connect Community.
Background:
Niklas Blomberg is the Director of
ELIXIR
, the European infrastructure for bioinformatics and life-science data, based in Hinxton, UK. He has a background in pharmaceutical research, having worked 12 years for AstraZeneca and holds a Ph.D structural bioinformatics and protein NMR spectroscopy. He currently coordinates EXCELERATE - and EU H2020 project with 45 partners and 29 M€ funding to develop the ELIXIR infrastructure and CORBEL (35 partners, 14M€) to drive interoperability between Europe's 12 life science research infrastructures.