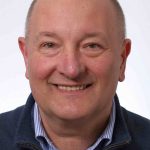 Milan Macek
Position: Head of Department of Biology and Medical Genetics
Organisation: Charles University
Area of work: Impact, Registries

Member of: The Rare Disease Patient and Ethics Council (RD-PEC)
Contact information:
Email

Website

Address: Department of Biology and Medical Genetics, V Úvalu 84 , Prague, 150 06, Czech Republic

Phone: +420 224433501

Role in RD-Connect:
Milan works on dissemination of project results to low income regions of Central and Eastern Europe as well as the Middle East. He is also a member of the Rare Disease Patient and Ethics Council (RD-PEC).
Background:
Professor Milan Macek Jr. MD, DSc is the chairman of the Department of Biolog and Medical Genetics at the Charles University in Prague - the largest academic medical and molecular genetics institution in the Czech Republic, which also comprises a research and diagnostics reproductive genetics centre. He is also the past President of the European Society of Human Genetics (ESHG), board member of the European Society for Human Reproduction and Embryology and of the European Cystic Fibrosis Society (ECFS). His institute contributes to dissemination of knowledge in genetics gathered within various international European projects, such as CF Network, EuroGentest,  EuroCareCF or Techgene, to Central and Eastern Europe.
Prof. Macek did his postdocs at the Institut of Human Genetics in Berlin and at the McKusick-Nathans Centre for Genetic Medicine, Johns Hopkins University in Baltimore. During that time he was also a fellow at Harvard School of Medicine in Boston. He hosted the 1995 HUGO Mutation Detection Course in Brno as well as the 2005 European Society of Human Genetics conference and of the 2008 European Cystic Fibrosis Conference, both held in Prague. Prof. Macek is national coordinator of Orphanet, active member of Eurogentest, has been the chief advisor of the Czech EU Council Presidency  under which the "EU Council recommendation on an action in the field of rare diseases"was adopted in June 2009. He also serves at the EUCERD committee on rare diseases and is involved in the rare disease-focused initiatives EURenOmics and RD-Action.