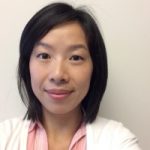 Mary Wang
Position: Research Program Manager
Organisation: Fondazione Telethon
Area of work: Biobanks

Member of:
Contact information:
Email

Website

Address: Telethon Scientific Office, P.za Cavour, 1 , Milan, 20121, Italy

Role in RD-Connect:
Background:
Mary Wang received her PhD in Cell Biology from University College London. Since then she has worked on research projects both in the UK and Italy, as well as being involved in an EU large integrated project. Mary is currently a Research Program Manager in the Scientific Office of the Fondazione Telethon.