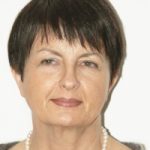 Marina Mora
Position: Biobank Director and Head of Muscle Cell Biology Lab
Organisation: Telethon Network of Genetic Biobanks
Area of work: Biobanks

Member of:
Contact information:
Email

Website

Address: Muscle Cell Biology Laboratory, Neuromuscular Diseases and Neuroimmunology Unit, Fondazione IRCCS Istituto Neurologico "C. Besta" Via Temolo 4 , Milano, 20126, Italy

Phone: +39-02 23 94 2632

Role in RD-Connect:
Marina Mora is founding member of EuroBioBank and Telethon Network of Genetic Biobanks; and has been scientific coordinator of EuroBioBank in the period 2012-2017.
Background:
Marina Mora is a biologist focused in neuromuscular disorders and neurogenetics. She graduated in Biological Sciences from the University of Milan, Italy. She completed her training at Mayo Clinic, Rochester, USA, in Dr. A.G. Engel's lab. She is team leader at the Istituto Neurologico C. Besta in Milan, and has published extensively in the field of neuromuscular disorders. Research focus of the laboratory group: muscle cell biology, genetics of muscle diseases, muscle fibrosis.