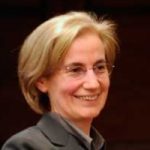 Lucia Monaco
Position: Head of Research Impact and Strategic Analysis at Fondazione Telethon
Organisation: Fondazione Telethon
Area of work: Biobanks

Member of: Community Executive Committee (CEC), Data Access Committee (DAC), Executive Management Committee (EMC)
Contact information:
Email

Website

Address: Telethon Scientific Office, P.za Cavour, 1 , Milan, 20121, Italy

Role in RD-Connect:
Within RD-Connect, Dr Lucia Monaco leads the work on biobanking at Fondazione Telethon in Milan, Italy.
Background:
Dr Lucia Monaco graduated in chemistry at the University of Pavia and was trained in biochemistry at the University of Iowa, Iowa City, USA as well as in molecular biology at the
European Molecular Biology Laboratory
in Heidelberg, Germany. Having over 20 years of experience as a researcher in both the industrial and academic settings, she took the role of the Chief Scientific Officer and then Head of Research Impact and Strategic Analysis at the Fondazione Telethon. Through her engagement in
International Rare Diseases Research Consortium (IRDiRC)
, she has supported rare disease research on the international level.
Lucia Monaco has developed Fondazione Telethon's Rare Disease Programme and linked it with academic and commercial partners, and with European patient organisations. She has engaged in scientific and patient-centred initiatives, such as
IRDiRC
, ICORD, and
EURORDIS
. Her work helped develop key research infrastructure for rare diseases, especially those related to biobanking and data sharing via
EuroBioBank
and RD-Connect. In 2017, she won the
EURORDIS Scientific Award
for cutting edge scientific developments in rare diseases.