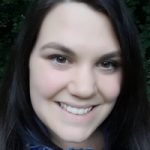 Libby Wood
Position: RD-Connect Project Manager
Organisation: Newcastle University
Area of work: Management

Member of: Executive Management Committee (EMC)
Contact information:
Address: John Walton Muscular Dystrophy Research Centre, International Centre for Life, Central Parkway , Newcastle upon Tyne, NE1 3BZ, United Kingdom

Phone: 0044 (0)191 241 8640

Role in RD-Connect:
Libby holds the post of the RD-Connect project manager. She is responsible for leading the strategic development and delivery of the project to ensure deliverables and objectives are achieved.
Background:
Libby studied Molecular Biology (Bsc) at Manchester University and has been working within the John Walton Muscular Dystrophy Research Centre at Newcastle University since 2012. Working closely with the TREAT-NMD network, she has been responsible for the coordination and management of patient registries for rare inherited neuromuscular conditions, she has also been involved in the communication, coordination and management of national and international clinical research studies.