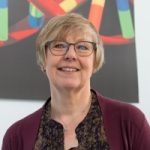 Kate Bushby
Position: Professor of Neuromuscular Genetics
Organisation: Newcastle University
Area of work: Impact

Member of: Executive Management Committee (EMC)
Contact information:
Address: John Walton Muscular Dystrophy Research Centre, International Centre for Life, Central Parkway , Newcastle upon Tyne, NE1 3BZ, United Kingdom

Phone: +44 191 241 8757

Twitter
Role in RD-Connect:
Within RD-Connect, Katie has overall responsibility for activities relating to the impact of the project on the broader rare disease field, ensuring that the project is responsive to the needs of the field and that its outcomes are widely implemented.
Background:
Kate Bushby is a clinical academic with joint appointments between Newcastle University and the NHS. She is a member of the Neuromuscular Research Group within the Institute of Genetic Medicine and plays a leading role in the National Commissioning Group (NCG) for rare neuromuscular diseases.
Along with Volker Straub, Katie was one of the founding coordinators the TREAT-NMD network for accelerating therapy development in neuromuscular diseases. She now plays a leading role in the European and national rare disease policy area, coordinating the EUCERD Joint Action which is mandated to assist the European Commission in the implementation of rare disease activities in all member states and acting as an invited expert on the new Commission expert group on rare diseases.
Katie has a longstanding interest in the molecular genetics of the limb-girdle muscular dystrophies and related disorders and is interested in the best possible development and implementation of care guidelines as well as clinical trials. Her team has developed an extensive programme of research in NMD from basic molecular pathology to clinical studies.