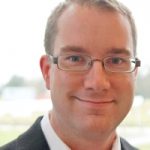 Justin Paschall
Position: Team Leader - Variation
Organisation: European Bioinformatics Institute
Area of work: Bioinformatics

Member of:
Contact information:
Email

Website

Address: Wellcome Trust Genome Campus, Hinxton , Cambridge, CB10 1SD, United Kingdom

Phone: + 44 1223 494 436

Background:
Justin Paschall leads the Variation team at the EBI which includes the European Genome-phenome Archive (EGA) and primary genetic variation archives. He has developed public bioinformatic resources focused on genetic variation and biomedical research at the National Institutes of Health in the United States prior to joining the EBI in August 2012. He has experience in management of high volume genomic and phenotypic data and in directing a team participating in multiple international consortia. Justin's background allows him to work with a diverse team of computer and biological scientists to define goals and implement solutions centered around information technology, biology, and genomic medicine.