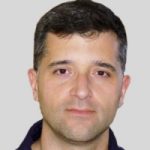 Julian Isla
Position: Founder and Chairman
Organisation: Dravet Syndrome Foundation
Area of work: Patient engagement

Member of: Patient Advisory Council (PAC)
Contact information:
Address: Santa Fe 1, 2E, 28224 Pozuelo de Alarcon , Madrid, Spain

Role in RD-Connect:
Julian is a member of the Patient Advisory Council (PAC).
Background:
Julian Isla is the father of a child with a rare disease. He is founder and chairman of the Dravet Syndrome Foundation and is also the president of the Dravet Syndrome European Federation. As a volunteer he is an observer on the Committee for Orphan Medicinal Products (COMP) at European Medicines Agency. He is also a Microsoft employee with more than 20 year of experience in IT.