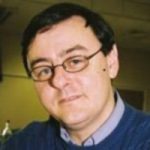 Joseph Irwin
Position: Member of SMA Support UK
Organisation: Lakeside Regulatory Consulting Services Ltd.
Area of work: Ethical Legal Social Issues, Impact, Patient engagement

Member of: Patient Advisory Council (PAC), The Rare Disease Patient and Ethics Council (RD-PEC), The Scientific Advisory Board (SAB)
Contact information:
Address: The Counting House, High Street , Tring, HP23 5TE, United Kingdom

Role in RD-Connect:
Joseph Irwin is a member of the RD-Connect Scientific Advisory Board, Rare Disease Patient and Ethics Council (RD-PEC) and Patient Advisory Council (PAC).
Background:
Joseph Irwin is a biochemist-pharmacologist with molecular biology and cell biology experience. He has worked for many years in hospital-based research and for the pharmaceutical industry and is presently an independent consultant on regulatory matters. Joseph became a Member of the Jennifer Trust for Spinal Muscular Atrophy (SMA) after his son Toby was diagnosed with Type I SMA. He supports the Paediatric Task Force for the European Organisation for Rare Disorders (EURORDIS) and has continued to support organizations working in rare neuromuscular diseases, often providing pro bono regulatory support and advice.