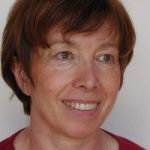 Inge Schwersenz
Position:
Organisation: Deutsche Gesellschaft fuer Muskelkranke (DGM), Initiative SMA
Area of work: Ethical Legal Social Issues, Patient engagement

Member of: Patient Advisory Council (PAC), The Rare Disease Patient and Ethics Council (RD-PEC)
Contact information:
Email

Website

Address: Seidl Hofstra 14 , Munich, 80639, Germany

Role in RD-Connect:
Inge Schwersenz is a member of the Rare Disease Patient and Ethics Council (RD-PEC) and the Patient Advisory Council (PAC).
Background:
Inge Schwersenz has a son with Spinal Muscular Atrophy. She wants to make sure that patients in clinical trials are not exposed to any harm, and their confidential data are truly protected. On the other hand, she wants to prevent unreasonable delays in promising clinical trials and finally market authorization (regulatory agencies, approval in the single countries and reimbursement from the health insurances). She would like to see the standards of care applied in every country.