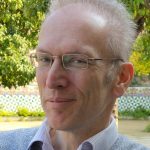 Hanns Lochmüller
Position: Senior Scientist, CHEO Research Institute. Professor of Neurology, The Ottawa Hospital and University of Ottawa Faculty of Medicine
Organisation: Centro Nacional de Análisis Genómico
Area of work: Management

Member of: Community Executive Committee (CEC), Data Access Committee (DAC), Executive Management Committee (EMC)
Contact information:
Role in RD-Connect:
Hanns was the scientific coordinator of the RD-Connect project from 2012-2017.
Background:
Professor Hanns Lochmüller trained as a neurologist in Munich (Germany) and Montreal (Canada). He was appointed chair of experimental myology in the neuromuscular research group at the Institute of Genetic Medicine of Newcastle University in 2007, where he initiated the RD-Connect project, and in 2018 moved to the Children's Hospital of Eastern Ontario in Ottawa, Canada.
He is an experienced clinical trial investigator in neuromuscular disease and leads a basic research lab, where his research interests are focused on the molecular genetics of inherited muscular dystrophies, myopathies and neuromuscular junction disorders and the study of cell and animal models of these disorders as a means to understand their pathophysiology as well as to develop means to monitor disease progression and therapeutic interventions.

Hanns is a former chair of the Interdisciplinary Scientific Committee of the International Rare Diseases Research Consortium (IRDiRC) and former chair of the Executive Committee of the TREAT-NMD Alliance. He is co-founder and former coordinator of the German muscular dystrophy network (MD-NET), and former scientific coordinator of EuroBioBank, a European network of biobanks for rare disorders.
Within RD-Connect's sister project Neuromics, Hanns was the disease coordinator for the congenital myasthenic syndromes, and in this and several other exome sequencing projects was responsible for gene discovery and work on disease modifying factors influencing severity of phenotype.
Hanns is Senior Scientist at the CHEO Research Institute in Ottawa, Canada, and Professor of Neurology with The Ottawa Hospital and University of Ottawa Faculty of Medicine. He also holds a position with the Department of Neuropediatrics and Muscle Disorders at the Medical Center – University of Freiburg Faculty of Medicine and is a visiting scientist at CNAG-CRG, where the RD-Connect coordination team is now based.