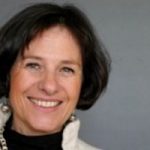 Françoise Rouault
Position:
Organisation: Association Française contre les Myopathies (AFM)
Area of work: Patient engagement

Member of: Patient Advisory Council (PAC)
Contact information:
Email

Website

Address: 1 Rue de l'Internationale, BP 59 Evry Cedex , 91002, France

Role in RD-Connect:
Françoise is a member of the RD-Connect Patient Advisory Council (PAC).
Background:
Dr. Françoise Rouault joined the scientific direction of the French Association for Myopathies (AFM) in October 2009 as International Scientific Affairs Manager. After graduating in molecular genetics at the Université Libre de Bruxelles, Belgium, she joined the Research Institute of Molecular Pathology in Vienna, Austria as postdoctoral fellow. Subsequently she ran fundamental research and teaching activities (Regulation of Gene Expression) and applied research activities for gene therapy (non viral and retroviral vector development). She worked at Transgene, Strasbourg from 1993 to 1997 where she constructed the first non viral vector for Duchenne muscular dystrophy selected by AFM for clinical development, at Bavarian Nordic Research Institute until 2001 as project manager, at the Viennese Veterinarian University and at Austrianova, Vienna, from 2001 to 2009, as coordinator of research liaising between the company and the university, and as operative head of the Christian Doppler Laboratory for Gene Therapeutic Vector Development.