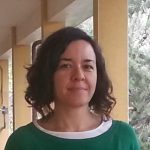 Estrella López Martín
Position: Postdoctoral Researcher
Organisation: Instituto de Salud Carlos III
Area of work: Biobanks, Registries

Member of:
Contact information:
Email

Website

Address: Institute of Rare Diseases Research, Institute of Health Carlos III (ISCIII), Avda. Monforte de Lemos 5 , Madrid, 28029, Spain

Phone: 0034 918222911

Role in RD-Connect:
Within RD-Connect, Estrella works on rare disease patient registries and biobanks. She is also involved in tasks and procedures related to international genotypic and phenotypic data sharing.
Background:
Estrella holds a PhD in Pharmacy, specifically in the Neurochemistry field. During her professional career she has acquired expertise is in the following scientific areas: Pharmacy, Biochemistry, Microbiology, Environmental Health and Rare Diseases Research. She has a mixed experience, both in experimental research and in epidemiology of rare diseases. Currently, she is collaborating in several tasks related to the Spanish Undiagnosed Rare Diseases Program SpainUDP and in the RD-Connect project