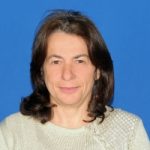 Elena Bravo
Position: Senior Researcher
Organisation: Istituto Superiore di Sanità (ISS)
Area of work: Registries

Member of:
Contact information:
Email

Website

Address: National Center for Rare Diseases, Viale Regina Elena, 299 , Rome, 00616, Italy

Background:
Elena Bravo is Senior researcher at the Istituto Superiore di Sanità (National Health Institute, ISS) in Rome. From 2009 she is contributing to the Italian participation to BBMRI (Biobanking and Biomolecular Resources Research Infrastructure) and for this infrastructure she is actually the delegate of the Italian representative in European legal consortium BBMRI-ERIC, Member of National the steering committee and responsible for the Secretariat of BBMRI-Italy at the ISS. She works at the project for the optimization of the Italian Network of Biobanks and to the construction of the Italian hub of population biobanks (HIBP), and she is also involved educational activities in biobanking and co-chair of the BRIF Journal editors subgroup.
After graduation in Biochemistry at the University "La Sapienza" in Rome, and postgraduate formation in Clinical Chemistry, her research focused on metabolism of cholesterol, lipoproteins, and body lipid homeostasis. She managed several national and international collaborative projects in the fields of lipid metabolism, postprandial lipoprotein metabolism, cholesterol and triacylglycerol accumulation in liver and macrophage cells. These studies contributed to knowledge on the mechanisms by which lipophilic soluble macronutrients and micronutrients carried by postprandial lipoproteins influence foam cells formation and macrophages inflammatory status. Presently, she is involved in the study of dietary supplementation with docosahexaenoic acid (DHA) in cystic fibrosis patients.