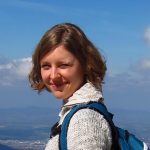 Dorota Badowska
Position: RD-Connect Science Communication and Impact Coordinator
Organisation: Newcastle University
Area of work: Impact

Member of:
Contact information:
Email

Website

Address: John Walton Muscular Dystrophy Research Centre, International Centre for Life, Central Parkway , Newcastle upon Tyne, NE1 3BZ, United Kingdom

Phone: +44 1912418624

Role in RD-Connect:
Within RD-Connect, she is responsible for science communication and impact coordination to synthesise and maximise the outputs of the project and research findings.
Background:
Dorota studied biotechnology (major) and psychology (minor) at the Warsaw University, Poland, where she was awarded a BSc in 2009. Afterwards she studied neuroscience at the Georg-August University and International Max Planck Research School in Göttingen, Germany.
In 2014, she completed her PhD in neuroscience at the Max Planck Institute of Experimental Medicine in Göttingen, Germany. Her research focused on studying interaction of genetic and environmental risk factors for schizophrenia using mouse models. During her PhD, she also volunteered as a journalist at the student TV station Univision, where she produced a number of videos.