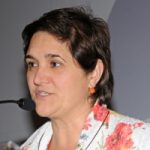 Domenica Taruscio
Position: Director
Organisation: Istituto Superiore di Sanità (ISS)
Area of work: Registries

Member of: Community Executive Committee (CEC), Executive Management Committee (EMC)
Contact information:
Email

Website

Address: National Center for Rare Diseases, Viale Regina Elena, 299 , Rome, 00161, Italy

Role in RD-Connect:
Dr Domenica Taruscio leads the work on linking rare disease patient registries and development of the Registry & Biobank Finder.
Background:
Dr Domenica Taruscio is the director of the National Center for Rare Diseases, Istituto Superiore di Sanità (ISS).
She holds and M.D. with a specialization in Histopathology (University of Bologna), a master in Bioethics (Rome University). She has carried out post-doctoral studies in Human Genetics at Yale University (CT, USA). Since 2001, she has been the scientist responsible for the Italian National Registry of Rare Diseases. She has been the Italian Representative at the COMP (Committee for Orphan Medicinal Products) at the European Medicines Agency (EMA, 2000-2009); member of the European Rare Diseases Task Force, of EUCERD (European Union Committee of Experts on Rare Diseases) and of the European Expert Group and a Member of the "Health Research" Advisory Group.
She is a member of the Interdisciplinary Committee of International Rare Diseases Research Consortium (IRDiRC) and a member of the Advisory Management Board of the European Molecular Genetics Quality Network. She held the functions of a scientific coordinator and/or work-package leader of EU and international projects on rare diseases: NEPHIRD, EUORPHAN, EUROPLAN, E-RARE, EPIRARE, RARE-Bestpractices, Advance-HTA, BURQOL-RD, EUROCAT Joint Action, Rare Diseases Joint Action.
Other functions:
- Past-President (2010-2012) of ICORD.
- Co-Editor in Chief of Rare Diseases and Orphan Drugs, an international Journal of Public Health
- Italian leader of the bilateral scientific agreement Italy (ISS) - USA (NIH) on rare diseases (since 2003)