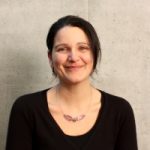 Deborah Mascalzoni
Position: Researcher
Organisation: Uppsala University
Area of work: Ethical Legal Social Issues

Member of: The Rare Disease Patient and Ethics Council (RD-PEC)
Contact information:
Email

Website

Address: Centre for Research Ethics & Bioethics, Box 564 , Uppsala, SE-751 22, Sweden

Role in RD-Connect:
Deborah is actively engaged in the work on the ethical, legal and social issues (ELSI), such as the development of the guidance on the international data sharing and informed consent. She is a member of the RD-Connect Rare Disease Patient and Ethics Council (RD-PEC).
Background:
Deborah Mascalzoni joined the Centre for Research Ethics & Bioethics (CRB) in April 2013. She is experienced in biobank and registry research and within CRB, works mainly with RD-Connect.
Deborah Mascalzoni worked on ethical and legal issues related especially to the population-based CHRIS project at the Center of Biomedicine, European Academy (EURAC). She completed her undergraduate studies in Philosophy (2005) and holds a PhD in Bioethics from the Faculty of Law at Bologna University (2005). She has also been teaching ethics at the 'Claudiana' University of Roma in Bolzano. She is a member of the Ethical Board of South Tyrol and the local health system ethical board of Bolzano as well as the Telethon Advisory Board. She is involved in the WIKI platform of the Italian Biobanking and Biomolecular Resources Research Infrastructure (BBMRI), a member of the Bioresource Research Impact Factor (BRIF) project and a member of the ethical group of the International Genetic Epidemiological Society (IGES).
Her main research interests are genetics and new technologies, informed consent, patient communication, privacy & data sharing and the role of stakeholders in medicine.