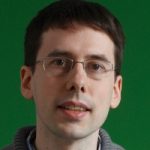 David van Enckevort
Position: Project Manager
Organisation: University Medical Center Groningen (UMCG)
Area of work: Biobanks, Data linkage

Member of: Biobank Assessment Panel
Contact information:
Address: p/a Dept. of Genetics CB50 University Medical Center Groningen, P.O. Box 30001 9700 RB , Groningen, Netherlands

Phone: +31 (0)6 54 33 22 76

Role in RD-Connect:
Within RD-Connect, David is involved in the work on data linkage and the development of the Sample Catalogue.
Background:
David van Enckevort is an international Biobank IT project lead specialized in data findability, access and interoperability. Before his switch to Bioinformatics, he gained extensive IT experience as systems engineer in the commercial sector, after graduating from Leiden University as an Archaeologist. His track record includes scientific programming and technical project lead of the Dutch biobank task force of the Netherlands Bioinformatics Center, the Dutch BBMRI-NL biobank catalogue, the European BBMRI-ERIC biobank directory, the European RD-Connect rare disease sample catalogue and the RD-connect data linkage project, since 2013 he is based at the department of Genetics at the UMCG Groningen.