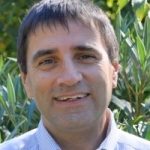 Christophe Béroud
Position: Assistant Professor of Genetics, head of the bioinformatics team at the UMR_S 910 research unit
Organisation: Aix-Marseille University Medical School
Area of work: Bioinformatics

Member of: Community Executive Committee (CEC), Executive Management Committee (EMC)
Contact information:
Email

Website

Address: Campus Timone, UMR_S 910, 4 & 5ème étage aile verte, 27, bd Jean Moulin , MARSEILLE cedex 05, 13385

Phone: +33 4 91 32 44 88

Twitter
Background:
Christophe Béroud has over 20 years of experience in research laboratories (more than 90 publications, 5 patents) and is an expert in bioinformatics (LSDBs, prediction tools, databases) and molecular biology (diagnostic and prenatal diagnostic of DMC). He leads the centre for molecular diagnosis of Congenital Muscular Dystrophies (MDC1A) and is head of the Bioinformatics team in the Inserm UMR_S 910 research unit at the Aix-Marseille University Medical School. He is a Member of: the National Medical Examination Committee; the Scientific Committee of the "Human Genome Variation Society"; the Standards of Care Committee of the "Congenital Muscular Dystrophy International Network"; the "Translational Research" commission of the Scientific Council of AFM and Founding Board Member of the Human Genome Variation Society (HGVS). He is an Expert for the European Commission (IRDiRC project) and various French institutions including Ministry of Research and Health.