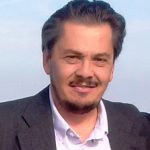 Chris Sotirelis
Position: Patient advocate
Organisation: unaffiliated
Area of work: Ethical Legal Social Issues, Patient engagement

Member of: Patient Advisory Council (PAC), The Rare Disease Patient and Ethics Council (RD-PEC)
Contact information:
Address: London , United Kingdom

Role in RD-Connect:
Chris is a member of the RD-Connect Patient and Ethics Council (RD-PEC) and the Patient Advisory Council (PAC).
Background:
Chris, himself a patient with beta thalassaemia major has been representing his community, tirelessly advocating on behalf of
EURORDIS
and Rare Diseases; his activities span many years and extend to national and international level. By profession, he is an Air Transport Engineer.
His interests include optimising clinical management of thalassaemia through better awareness, and education of patients, healthcare professionals and scientists alike.
Having previously served as a Trustee of the UK Thalassaemia Society, he was involved with the first ever thalassaemia patient registry of clinical outcomes until 2001. His expertise includes setting up the National Haemoglobinopathies Register. He has also been involved in the development of a number of surveys regarding patient quality of life within the thalassaemia community. Recently, he has been leading a team for the creation of a PROM aimed at highlighting areas of inequity and the patients' experience of the impact of their treatment.
His earlier work within the UK national Sickle Cell and Thalassaemia Screening Programme Steering Group Committee have allowed him to contribute a patient perspective and help develop the ethics underlying screening for a genetic condition like thalassaemia, equally on issues of "informed consent" and "informed choice".
As the thalassaemia advisor on the NHSE Clinical Reference Groups, a high level NHS advisory group in the UK, he has been involved in developing national service specifications of care services and commissioning policies on medicinal products for thalassaemia patients. More recently, he has been advising NHSE commissioners on the restructuring of national clinical services and the updating of the UK's National Haemoglobinopathy Register. He is also a regular public reviewer for the UK NIHR Health Services and Delivery Research Programme.
As one of the European Medicines Agency's (EMA) experts, affiliated to EURORDIS, he has been striving to integrate patient perspectives in patient-critical areas of drug development and policies in the regulatory framework. He has been directly involved in many EMA-HTA Parallel Scientific Advice sessions, participating in several expert meetings, pilot projects and subgroups.
As the lead representative of his patient community he has directly interacted in NICE Health Technology Assessments (Single and Multiple Appraisals) and Scientific Advices on a variety of products.
He is a regular invited speaker in many conferences and workshops; in particular on Regulation, Access and Reimbursement, and payer issues, notably, at national, European and international level. He is focused on projecting the understanding of Rare Diseases patients' hopes, aspirations and expectations on HTAs, Personalised Medicines and Advanced Therapies.
In 2018, he was awarded the EURORDIS Black Pearl Award.