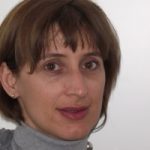 Chiara Baldo
Position: Biobank Director
Organisation: Telethon Network of Genetic Biobanks
Area of work: Biobanks

Member of: Biobank Assessment Panel
Contact information:
Email

Website

Address: Laboratory of Human Genetics, E.O. Ospedali Galliera, Via A. Volta 6 , Genova, 16128, Italy

Background:
I obtained my Biological Sciences degree at the University of Genoa in 2002 and in 2007 I specialized in Medical Genetics.
I have worked for the "Galliera Genetic Biobank" of the Laboratory of Human Genetics of Galliera Hospital in Genova since 2000 and I joined to permanent staff of the Human Genetic Laboratory in 2009, with the role of responsible for management of the Biobank.
I have taken part of the Commission established by the Italian Society of Human Genetics (SIGU) and Telethon foundation, to propose the Guide Lines for Genetic Biobanks and also, in 2008, of the Commission of SIGU for the preparation of specific document for Genetic Biobanks' Certification.