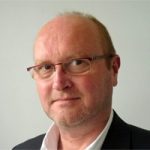 André Blavier
Position: CEO
Organisation: Interactive Biosoftware
Area of work: Bioinformatics

Member of:
Contact information:
Address: 9 Avenue de la Porte des Champs , Rouen, 76000, France

Background:
André is a co-founder of Interactive Biosoftware and principal architect of the Alamut software. Prior to embracing bioinformatics he worked as a computer scientist involved in R&D software projects including medical informatics. He has a background in medicine and computer science, having gained an MD from Université de Rouen and a MSc. in computer science from Université René Descartes (Paris V).