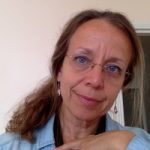 Ana Rath
Position: Director
Organisation: INSERM US14 – Orphanet

Member of:
Contact information:
Address: Rare Disease Platform, 96, rue Didot , Paris, 75014, France

Background:
Ana Rath is a medical doctor with a background in general surgery and a Masters degree in Philosophy. She oriented her career to medical information in 1997 and joined Orphanet (www.orpha.net) in 2005. She acts as managing editor of the Topic Advisory Group on rare diseases at the World Health Organization. She chairs the Orphanet rare diseases ontology (ORDO: http://bioportal.bioontology.org/ontologies/ORDO). Ana is the current Director of Orphanet and the coordinator of RD-ACTION, the EU Joint Action for rare diseases (2015-2018). She chairs the Orphanet Rare Disease Ontology (ORDO).