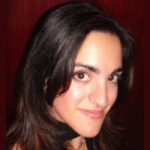 Alexandra Fiott
Position: Research Support Officer I/ BioBank Assistant
Organisation: University of Malta
Area of work: Biobanks, Ethical Legal Social Issues, Impact

Member of:
Contact information:
Address: Biomedical Sciences Building, University of Malta , Msida, MSD2080, Malta

Background:
Alexandra graduated with a B.Sc. (Hons) in Biology and Chemistry in 2009, classified Second Upper. In 2009 she read an M.Sc. in Biomedical Sciences (Molecular Biology and Genetics), which she recently obtained with a merit. In 2011 she attended an intensive course in biobanking, titled 'Certificate on Principles of Biobanking for Clinical, Biological and Environmental Biospecimens and Bioresources', in Luxembourg.
To date she has held numerous part time roles, including teaching English as a foreign language, demonstrating Chemistry practicals at the University and grading the write ups for the Chemistry practicals. In 2010 she began working as a Research Support Officer I (full-time) and is currently still occupying this role.