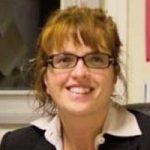 Alessandra Renieri
Position: Biobank Director
Organisation: Telethon Network of Genetic Biobanks
Area of work: Biobanks

Member of:
Contact information:
Email

Website

Address: Genetica Medica, Dipartimento di Biotecnologie Mediche, Università degli Studi di Siena e Azienda Ospedaliera Universitaria Senese Policlinico "Le Scotte",, Lotto 3, Piano 1 Viale Mario Bracci 2 , Siena, 53100, Italy

Background:
Professor Renieri graduated in Medicine in 1989 at the University of Siena. She obtained a PhD in Human Genetics at the University of Siena in 1994 and become a specialist in Medical Genetics in 1998 at the University of Florence. She worked as Medical assistant (from 1993 to 1998) and then as a researcher (from 1998 to 2000) in the Medical Genetics laboratory at the University of Siena. She become associate professor of Medical Genetics in 2000 and full professor in 2007. In 2007 she assumed the direction of the Medical Genetics Unit (Azienda Ospedaliera Universitaria Senese and University of Siena).
Her main research interests is molecular genetic research on intellectual disability (with a special focus on Rett syndrome and other X-linked forms) and Alport syndrome. She contributed to the identification of the 3 genes presently involved in Rett syndrome and to the clarification of the molecular bases of different forms of intellectual disability. She is the director of the "Cell lines and DNA Bank of Rett syndrome, X-linked mental retardation and other genetic diseases" that collects biological samples and detailed clinical information from patients affected by Rett syndrome, X-linked and autosomal intellectual disability, Alport syndrome, Wilson syndrome and other 42 other genetic diseases. Samples are made available to researchers under the roles of the Telethon Network of Genetic Biobanks.