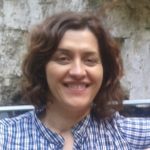 Yllka Kodra
Position: Medical researcher
Organisation: Istituto Superiore di Sanità (ISS)
Area of work: Registries

Member of:
Contact information:
Email

Website

Address: National Center for Rare Diseases, Viale Regina Elena, 299 , Rome, 00161, Italy

Role in RD-Connect:
Within RD-Connect, Yllka is collaborating in the activities concerning rare disease registries.
Background:
Yllka is a MD, specialised in Epidemiology and Public Health and PhD in Public Health. Since 2001, she has been working as a researcher at the National Center for Rare Diseases, Istituto Superiore di Sanità in Rome, Italy. Her key qualifications are: expertise in epidemiology and public health, design/implementation of rare disease and congenital malformations registry, biostatistical analsysis, coding and classification of disease, Patient-reported outcomes (PROs) studies, training of health operators in the field of epidemiology and design/implementation of neonatal screening programme.