Centre for Comparative Genomics, Murdoch University
Area of work: Bioinformatics
Role: Full Partner
Contact:
Address: 90 South Street, Perth, WA 6150, Australia
Role in RD-Connect:
The Centre for Comparative Genomics leads all Australian aspects of bioinformatics as part of the Australian contribution to RD-Connect. Murdoch participates in many areas of RD-Connect work: patient registries and databases, biomaterial sharing, clinical bioinformatics, integrated platform, as well as ethical, legal and social issues. CCG (together with OPHG) applies to the National Health and Medical Research Council (NH&MRC) through the Australian NH&MRC – European Union Collaborative Research Grants scheme established to provide Australian researchers with support funding up to approximately $200,000 per annum to a maximum of $1.2 million dollars. Murdoch University (CCG) is the Administering Institution for the grant.
Based at Murdoch University, the Centre for Comparative Genomics (CCG) is a Western Australian State Government Centre of Excellence. The Centre draws together biomedical and agricultural research and development, bioinformatics activities, expertise in comparative genomics, software development and high performance computing in such a way as to promote shared understanding within and across fields of study. The CCG houses the Australian Bioinformatics Facility to lead the bioinformatics research infrastructure for genomics, proteomics and metabolomics national platforms. The Centre also houses the iVEC@Murdoch supercomputing facility which consists of a supercomputer ranked number 87 in the world.
The Centre's main areas of expertise include:
Supercomputing clusters, storage area networks and network security, Internet-based web application development ranging from customisation of existing open source tools through to the complete requirements gathering, design, development of numerous sophisticated Internet based systems, large range of bioinformatics analysis skills in genomic, transcriptomics, proteomics and disease association, population (community) genetics.
Genomics: Assembly, annotation, mapping, searching, non-coding RNA, disease association, comparative genomics, Vaccine candidate identification, new tools for alignment, phylogenetics, visualization.
Transcriptomics: Similarity searching and clustering, alternative splicing, annotation, gene expression and statistical analysis, Small RNA gene identification, visualization.
Proteomics: Peptide mass fingerprinting analysis. Custom protein datasets, visualization.
Members: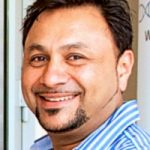 Position: Professor
Organisation: Centre for Comparative Genomics, Murdoch University
Area of work: Bioinformatics