Today is Rare Disease Day!
Raise and join your hands to show solidarity with people living with a rare disease
Launched in 2008 and coordinated by EURORDIS and its Council of National Alliances, Rare Disease Day 2015 is a global event which aims to raise awareness of rare diseases and their impact on patients' lives. Rare Disease Day takes place annually on 28th February.
This year's theme encourages everyone in the rare disease community to Raise and Join Hands to show your solidarity with people living with a rare disease. An official Rare Disease Day 2015 video – Bring People Living with a Rare Disease out of the Shadows and into the Spotlight – has also been released to mark the event. RD-Connect are supporting this event by becoming an official Friend of Rare Disease Day and have publicised the event via the website, twitter and newsletter.
To find out how you can become involved please visit the Rare Disease Day 2015 website.
Focus on patient registries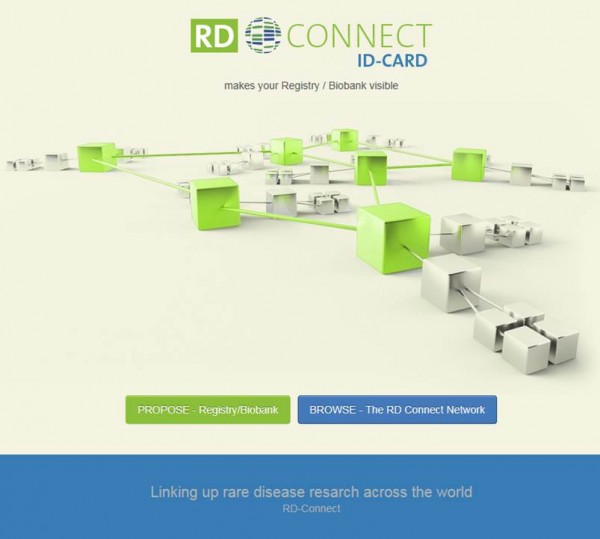 Rare disease registries are invited to publish their collection in the RD-Connect catalogue
Genetic databases and patient registries are increasingly recognized as crucial tools for rare disease research. For most rare diseases, no single institution, and in many cases no single country, has sufficient numbers of patients and resources to conduct clinical and translational research. Identifying patients with specific genotypes and phenotypes is a major constraint to patient recruitment into research projects and clinical trials. International collaboration is therefore absolutely essential to ascertain pathogenicity or rare genotypes, and to achieve the unified collection of rare disease phenotypic data, foster natural history studies and identify participants for research and clinical trials, as well as to support the safety and efficacy evaluation of potential therapies.
Currently, registries exist for a small fraction of rare diseases and, conversely, more than one registry exists for certain rare diseases. Thus, calls are increasing both for the expanded use of registries and for a more systematic and standardized approach to their creation, maintenance, and accessibility on an international and global basis.
RD-Connect encourages sharing of existing registry data through an online catalogue for registries, and supports the creation of new registries and the linkage of existing systems. The RD-Connect online catalogue is made up of a collection of information on existing registries called ID-Cards. The RD-Connect catalogue for registries offers detailed information on the number of registered cases in each registry, on the content of participating registries, on the procedures for ensuring quality of the data and for accessing the data.
RD-Connect promotes the use of ontologies for phenotype description and the adoption of common data elements to increase standardisation and interoperability of rare disease registries. The Orphanet Rare Disease Ontology (ORDO) and the Human Phenotype Ontology (HPO) are considered the most relevant ontologies to be used in the rare disease research field and, more specifically, in RD-Connect.
RD-Connect is also developing toolkits in order to help the start-up of new registries and ensure interoperability of existing registries and databases.
Information about RD-Connect' s progress in harmonizing and standardizing patient registries for rare disease in order to maximize their utility for omics research can be found on the new registries section of the RD-Connect website. This section also contains further information about how to integrate your registry into the RD-Connect platform.
~ Sabina Gainotti, ISS, Rome, Italy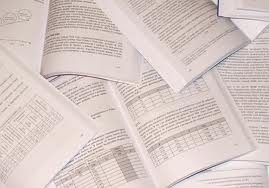 Publications
Linking genotypes database with locus-specific database and genotype–phenotype correlation in phenylketonuria
Phenylketonuria (PKU) is a rare congenital metabolic condition affecting 1 in 10, 000 newborns in Europe per year. PKU is caused by a mutation in the hepatic phenlalanine-4-hydroxylase (PAH) gene which in turn causes a build up of phenylalanine in the blood and brain. This build up leads to severe brain damage, behavioural disturbances and psychiatric disorders in untreated patients.
The main purpose of this study was to use a series of computer algorithms to identify factors that could be used to predict a patients allelic and phenotype and BH4 (tetrahydrobiopterin co-enzyme) responsiveness. BioPKU.org hosts databases of Pediatric Neurotransmitter Disorders (PND), including the locus-specific database of PAH variants and BIOPKU genotypes databases. Using data from the LSD PAHvdb (Phenylalanine Hydroxylase Gene Locus-Specific Database) and genotype database BIOPKU(Database of Patients and Genotypes Causing HPA/PKU incl. BH4-Responsive Phenotype) the authors demonstrated how genotype, allelic phenotype, protein stability and residual enzyme activity reliably predict patients' phenotype and BH4 responsiveness.
This study demonstrates the importance of combining genomic data with phenotype data to identify predictive factors in rare diseases.
The author of this publication, Nenad Blau (Zurich and Heidelberg), is a partner in RD-Connect, and this work will contribute to genotype-phenotype correlation initiatives in RD-Connect.
Wettstein S, Underhaug J, Perez B, Marsden BD, Yue WW, Martinez A & Blau N (2015) Linking genotypes database with locus-specific database and genotype–phenotype correlation in phenylketonuria. European Journal of Human Genetics 23, 302–309
Also in the news…
To coincide with our registries special issue we are highlighting two relevant publications from RD-Connect partners.
• Registries work package leaders Domenica Taruscio and Sabina Gainotti published an article in Public Health Genomics about classification and characterisation of rare disease registries. In this paper, Santoro et al. (2015) present the results from an exploratory statistical analysis of data collected from EPIRARE survey on the activities and needs of rare disease registries. Analysis showed that rare disease registries can be divided into three main typologies: public health, clinical and genetic research and treatment registries. It is hoped that the identification of such typologies can facilitate data sharing between rare disease registries of similar profiles.
• Scientific advisory board member Peter Robinson has recently co-authored a publication about the importance of adopting common methods for capturing phenotypic information. Deans et al. (2015) survey the current phenomics landscape, including data resources and handling, and the progress that has been made to accurately capture relevant data descriptions for phenotypes. They call upon the broader biology community, publishers, and relevant funding agencies to support efforts to surmount today's data barriers and facilitate analytical reproducibility.

A full list of other publications can be found on the RD-Connect website.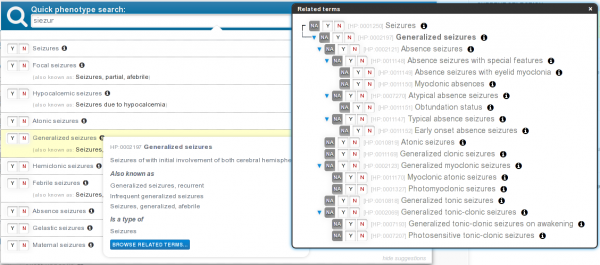 Guidance for the use of PhenoTips and the HPO in undiagnosed cases
It has been estimated that 20-50% of patients participating in NeurOmics, EURenOmics and other IRDiRC projects are genetically undiagnosed. Therefore, it is necessary to capture deep phenotypic and possibly longitudinal data about these patient cohorts to facilitate diagnosis and aid "matchmaking" of similar cases even before an exact genetic diagnosis is obtained and the patient record can be transferred to a gene-specific database. It is also advantageous for gene-specific databases to make use of ontologies for the collection of phenotypic data to help identify common traits and features in patients carrying a common gene defect.
Several research projects and national clinical programs, including NeurOmics, Care for Rare Canada, and the NIH Undiagnosed Diseases Program, are currently using the software PhenoTips, developed by the University of Toronto, which enables phenotypic annotation using the Human Phenotype Ontology (HPO). Guidelines have recently been released on "How to annotate a patient's phenotypic profile using PhenoTips and the Human Phenotype Ontology".
The set of phenotypes chosen for the annotation must be as specific as possible, and represent the most salient observable phenotypes. When searching for a term users should always browse related terms to ensure they have selected the most specific ones. Also, they can provide annotations for things that were investigated and specifically not observed. These "negative" annotations are especially useful to include in cases where there are only a few observable phenotypes.
The software also provides a Phenotype Annotation Sufficiency Meter assessing the breadth and depth of phenotype annotation profile using a five-star rating system for a given patient. The goal is to make annotation profiles specific enough to exclude similar diseases and to identify model organisms with similar phenotypes that may have mutations in relevant genes or pathways. The patient annotation profile is also used to aid exome prioritization using the same technology.
To read the full guidelines click here.
~ Bailey Gallinger & Melissa Haendel, PhenomeCentral and Monarch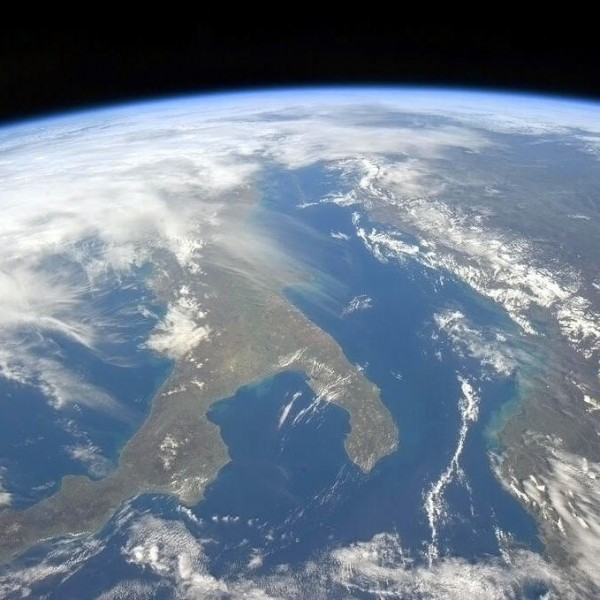 Twenty years of registration activities for the AMU Marfan syndrome registry
The Marfan Syndrome and Associated Pathologies (MSAAP) registries is celebrating its 20th birthday this year and is one of the first 96 registries to be included in the RD-Connect ID-Cards within the online catalogue.
The first Marfan syndrome registry was created in 1995 by the Genetics & Bioinformatics research team from Aix-Marseille University (INSERM UMR_S910) for the FBN1 gene. The main goal of this registry was to collect information to develop a better understanding of the disease natural history, to identify genotype-phenotype correlations and to develop treatment strategies.
The AMU team developed a Locus Specific Database with a generic system called Universal Mutation Database (UMD). The database is a "knowledge base" system that includes several tools to study and extract data of interest as well as complex algorithms to predict pathogenicity of missense variations, consequences of variations on splicing signals, or to search for genotype-phenotype correlations.
Currently eight registries have been developed, one for each known gene involved in MSAAP (FBN1, FBN2, TGFBR1, TGFBR2, ACTA2, SMAD3, MYH11 and MYLK). These contain all mutations collected from literature and through direct collaborations with diagnostic laboratories: FBN1 (3200 entries), TGFBR2 (300 entries) and the new registries TGFBR1 (125 entries), ACTA2 (203 entries), SMAD3 (61 entries), MYH11 (44 entries) and MYLK (13 entries). Each mutation is annotated at gene, protein and clinical levels. Seven of these genes are "actionable", which means that an action can be conducted to counter the effect of this variant in the patient and that a better follow-up has to be set up.
All the registries have a dedicated expert curator, are updated regularly and are available (open access) here.
~ Gwenaelle Collod-Béroud, INSERM/AMU, France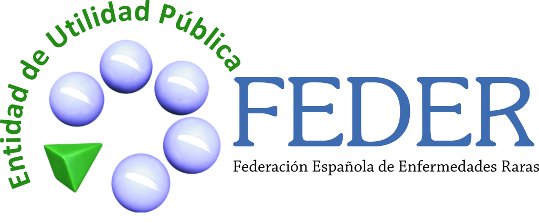 The FEDER Spanish rare disease helpline encourages all regions in Spain to set up an Undiagnosed Disease Program
One of the major impacts of RD-Connect is to increase the number patients with a defined diagnosis. Efforts and specific programs in different countries dedicated to undiagnosed cases are therefore of interest to RD-Connect.
The FEDER (Federación Española de Enfermedades Raras – Rare Diseases Spanish Federation) help line for rare diseases was launched in Spain during 2000. Many of the questions received by the FEDER helpline come from patients who are seeking to receive a definitive diagnosis. Currently, the IIER (Institute of Rare Disease Research) solves more than 50% of all consults received from adults, while undiagnosed children are not usually referred to the IIER.
The IIER Undiagnosed Disease Program (UDP) is based on the team's expertise which, since 2011, receives different requests from patients, professionals and also by FEDER. IIER receives more than 200 requests per year and most of them are related to diagnosis problems. After a preliminary screen of each individual case, patients are invited to send all the information they have, including clinical, analytical and imaging data, with the name of their physicians and specialists and in some case some pictures – only for children – to detect minor dysmorphology changes in their faces.
A multidisciplinary group of experts reviews all documents and makes a specific plan for each case. This plan always contains the request for new proofs and analysis in close cooperation with the treating physicians. Genetic analyses are carefully considered by the Area of Human Genetics of the IIER.
A meeting was recently organized in Madrid, at the IIER venue between FEDER and the IIER. This meeting aimed to renew the agreement between FEDER and IIER, define how the IIER will support the FEDER help line, identify the main points of the IIER undiagnosed cases program (UDP) and clarify the FEDER plans regarding UDP.
FEDER is asking all Spanish politicians and parliamentarians from all regions to set up UDPs in every region of Spain.After the meeting FEDER and IIER agreed on the development of UDP national program that is coordinated by the IIER.
~Manuel Posada & Estrella Lopez Martin, Instituto de Salud Carlos III, CIBERER, Spain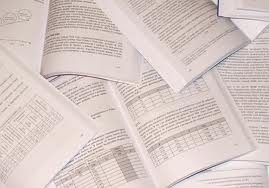 CoBRA (Citation Of BioResources in journal articles) guidelines to standardise the citation of research articles using bioResources
Like all IRDIRC projects RD-Connect is based on the assumption that scientists will increasingly make their data and bioresources available to the global research community.
One of the main barriers to the sharing of bioresources is the lack of acknowledgement and recognition of the efforts directed at establishing and maintaining such resources.
To assess the use and impact of bioresources in research such resources should be accurately cited in scientific publications. At present, however, bioresources are either cited in a confusing, heterogeneous, and unstandardized way, or they are not cited at all. Thus, guidance is needed on citation of bioresources in order to make them discoverable, visible and traceable in academic work.
The BRIF (Bioresource Research Impact Factor) is an ongoing international initiative aiming to develop a framework for the accurate acknowledgement of resource use in scientific publications, in order to measure the impact of such resources and to encourage policies of collaboration and sharing.
The CoBRA guidelines (Citation Of BioResources in journal Articles) just published are aimed to standardise the citation of research articles using bioResources, and they are the result of the activities of the BRIF subgroup working with science journal editors.
The use of CoBRA will improve the quality of bioresource reporting and will allow bioresource traceability in scientific publications, with a positive impact on their sharing and on open access policies.
Bravo E, Calzolari A, Castro PD, Mabile L, Napolitani F, Rossi AM and Cambon-Thomsen A (2015). Developing a guideline to standardize the citation of bioresources in journal articles (CoBRA). BMC Medicine 2015, 13:33
~ Elena Bravo, Istituto Superiore di Sanità, Italy


Genetic Alliance UK launch a Patient Charter on Genome Sequencing
On February 11th 2015, the Genetic Alliance UK launched the results of an online engagement project called 'My Condition, My DNA' in the form of a Patients' Charter on Genome Sequencing. The Charter reflects the views of 144 UK patients or family members affected with rare genetic disease (both diagnosed and undiagnosed). This can be seen here.

The launch, at the Wellcome Centre in London, was introduced by George Freeman MP, Minister for Life Sciences and Alastair Kent OBE, Director of the Genetic Alliance and followed by a lively and informed discussion with an expert panel. Cathy Turner (NeurOmics) and Pauline McCormack (RD-Connect) went to the launch to take part in the debate. Based on the survey and reflected in the panel discussion, the four main themes of the charter are:
1: Patients want to have the option to receive as much information as possible from genome sequencing. This included having the option to receive information about additional or incidental findings.
2: Genetic counsellors are very important to patients. Both the survey and the audience at the launch strongly valued the support that they offer to families. The need for statutory regulation of the profession was discussed as well as the need to train a significantly higher number of counsellors to cope with the increasing need for their services.
3. Patients welcome the sharing of their genomic data for research. During discussions, it was noted that the risk-benefit considerations and attitudes to privacy amongst the survey respondents may be quite different to those in the general population and that this should be considered. However, this willingness of patients to share data was welcomed and is an important principle for projects like NeurOmics, EURenOmics and RD-Connect. The data-sharing charters for these projects allow for the safe sharing of data (genomic and phenotypic) between researchers. This is crucial for the success of the projects.
4. Patients want to see the UK NHS make more progress towards the integration of sequencing into clinical practice. However, the need for better public education and information materials on genomic sequencing was discussed and all agreed that this was extremely important. Projects such as NeurOmics which are using genomic sequencing techniques have an important role to play in better engaging and informing patients about this type of research and its implications.
The differences that new technologies and reducing costs of genome sequencing are making to patient diagnosis and therapy development both now and in the future were apparent and wholly welcomed. However, the challenges of embedding this into clinical practice were certainly apparent and the impact on patients and families is significant. This illustrates why consultation exercises such as this one by the Genetic Alliance UK are so important. Further questions and comments to the group are welcomed by email at questions@geneticalliance.org.uk
~ Cathy Turner, Communication and Dissemination Officer, NeurOmics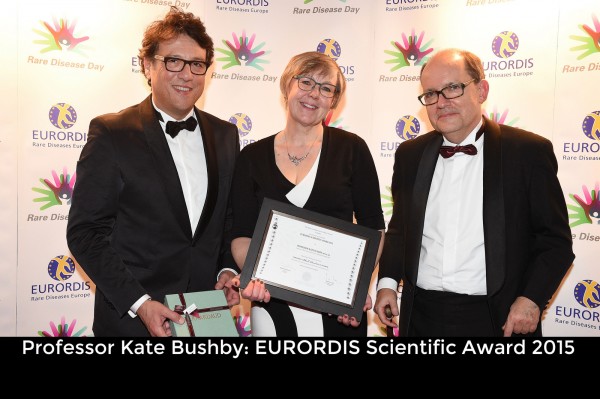 RD-Connect impact leader receives award from the European Organisation for Rare Diseases - EURORDIS
RD-Connect work package leader Kate Bushby has been named as the 2015 recipient of the EURORDIS Scientific Award. The EURORDIS Awards recognise the outstanding commitment and achievements of patients' organisations, volunteers, companies, scientists, media and policy makers who have contributed to reducing the impact of rare diseases on people's lives. Nominations for this were received from across the rare disease community and the final decision was then made by the EURORDIS Board of Directors. The presentation took place on 24th February during the fourth fundraising EURORDIS Black Pearl Gala Dinner held in Brussels, Belgium.
The EURORDIS Scientific Award not only recognises Katie's outstanding research into rare inherited neuromuscular diseases, but also pays tribute to her roles in the NHS Highly Specialised Services for rare neuromuscular diseases, as well as the EU Committee of Experts of Rare Disease.
Katie said: "I am delighted to have received this award, which is also a real accolade for the work of all our many partners in Europe and worldwide and an indication that collaboration is essential for advancing research in rare diseases."
Photos of the award winners are available on the EURORDIS Flickr page.



PhD fellowship research funding opportunity from Kindness for Kids
For research into rare paediatric diseases that makes use of EuroBioBank and RD-Connect resources
Kindness for Kids is a charitable foundation with the objective to improve the quality of life of children affected by rare diseases. The foundation provides social support to the children and their families by organizing vacation camps throughout Germany. On the other hand, kindness for kids funds scientific research to develop new therapies as well as to improve health care provision for those affected.
The foundation announces a PhD fellowship to contribute to therapy development for rare paediatric diseases. Kindness for kids is looking for a PhD project that develops or tests a new treatment, identifies therapeutic targets or employs a screening platform in the area of rare paediatric diseases using in vitro experiments. For the project to be eligible, patient biomaterials from EuroBioBank and/or RD-Connect should be used in the study.
Deadline for submissions: June 15th 2015.
Further information and guidelines on how to apply for this fellowshop can be found here

EURORDIS are welcoming applications for a Patient Voices Programme Manager (PVPM)
The main scope of the position includes the coordination of all activities related to the Patient Voices Programme. The aim of the Programme is to engage patients and patient organisations in health, research and social policy issues to better inform EURORDIS' advocacy and policy-making activities through both qualitative and quantitative data collection methods. The PVPM will thus serve as the team's in-house reference for the collection of data from patients and patient organisations.
The ideal candidate will be EMT or equivalent, have 3-5 years of relevant professional experience with direct experience in qualitative and quantitative collection of data.
Deadline for submissions: 16 March 2015
Further information on how to apply for this position can be found here.
Upcoming events
For further information on future events please visit the events page on the RD-Connect website.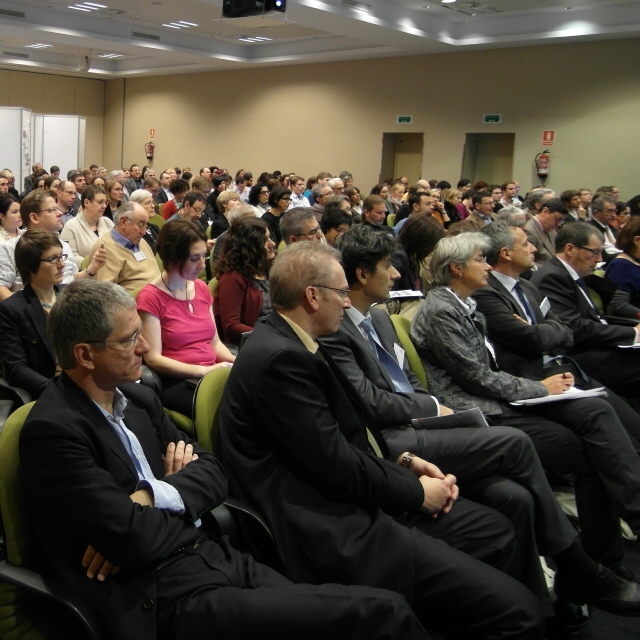 RD-Connect and NeurOmics project meeting - 4-8 March, Palma, Mallorca
RD-Connect and NeurOmics are holding their annual meeting in Palma de Mallorca, Spain, in March 2015. The agenda for the two meetings include dedicated sessions on achievements and scientific highlights in NeurOmics; Ethics and data sharing; work-package update; ontologies and phenotyping; the development of the genomics platform; Unique Identifiers; the next steps for metabolomics, transcriptomics and proteomics; and the ethical, legal, social challenges and opportunities for RD-Connect over the next 18 months.
The annual meetings also provide an opportunity for the RD-PEC (patient and ethics council) to gather and discuss ethical, social and participatory questions linked to research taking place in the context of RD-Connect, NeurOmics and EURenOmics. Also, the annual Scientific Advisory Board (SAB) meetings for each project will take place. SAB members are independent experts in their field and provide unbiased advice to help ensure RD-Connect and NeurOmics meet their objectives. Training courses will also be offered and shall include sessions on Biobanks, the European Genome-phenome Archive (EGA) and the RD-Connect Platform Genomics Interface. The event concludes with the RD-Connect platform developers meeting (invitation only) which will involve discussions about the final version of the platform prior to release.
3Gb-Test: Next-generation sequencing in a diagnostic setting, 20-23 April 2015, Prague, Czech Republic
The focus of the course will be on clinical diagnostics using exome/genome sequences, variant identification and analysis including afternoon practical's (limited places available). The event is being Chaired by RD-Connect partner Milan Macek, (Prague, Czech Republic) and includes sessions on different next generation sequencing platforms, targeting gene panels and variant calling. Further information is available here.
3Gb-TEST Central and Eastern European Regional Meeting, 22 April 2015, Prague, Czech Republic
On April 22nd 2015 the 3Gb-TEST Central and Eastern European Regional Meeting will be held in the Cinema Hall of the Hotel Pyramida in Prague – Czech Republic. Confirmed Speakers include RD-Connect coordinator, Hanns Lochmüller (Newcastle University, United Kingdom) and NeurOmics coordinator, Olaf Riess (Tübingen, Germany) who will be speaking about the importance of data sharing for rare disease research and the future of whole genome sequencing, respectively. Further information is available here.
13th Symposium on Mutation in the Genome: detection, genome sequencing & interpretation Leiden, April 27-30 2015
During this meeting there will be a RD-Connect/Global Alliance for Genomics and Health thematic session on data sharing and integration for rare diseases: "Knowledge from sharing" The meeting aims to present the latest developments in the field, the best methodologies for scanning, sequencing, bio-informatic analysis and functional testing. The meeting will be presented in plenary format with invited speakers including Joris Vermeesch (Lab. For Cytogenetics & Genome Research, Leuven), Belgium Wayne Grody (UCLA School of Medicine,CA, USA) RD-Connect partner, Ivo Gut (Fundacio Privada Parc Cientific de Barcelona, Barcelona, Spain) and Stefan White (Monash University, Melbourne, Australia). The meeting will include Workshops on themes related to NGS pipelines and analysis, data collection and variation nomenclature. Deadline for abstract submission: 2nd February 2015. Further information is available here.
2nd EATRIS Conference, Building Bridges in Translational Medicine, 27 – 28 May 2015 – Zuiderkerk, Amsterdam
The conference will bring together key international experts and stakeholders in translational research. Over two days they will present and discuss the current landscape in translational research, together with the new developments that EATRIS-ERIC contributes to the field. The conference will be a unique opportunity to interact with a wide range of key stakeholders: patient organisations, research funders, governmental representatives, as well as industry and regulatory agencies. Participants will learn more about translational services developed by EATRIS-ERIC and will be invited to discuss the translational field with high-level keynote speakers. RD-Connect impact work package leader, Kate Bushby, will be a keynote speaker at this event. Further information available here.
The European Society of Human Genetics (ESHG) conference 2015, June 6 - June 9 2015, Glasgow, Scotland
The European Society of Human Genetics (ESHG) conference is a forum for all workers in human and medical genetics to review advances and develop research collaborations. The conference has become one of the premier events in the field of human genetics with over 3.000 delegates, more than 215 oral presentations, 13 workshops, 8 educational sessions, and over 150 exhibiting companies. The ESHG conference is where the latest developments in human genetics are discussed, and where professionals from all parts of human genetics meet. Further information is available here.

Why did I get this email?
You received this email because you are associated with RD-Connect, EURenOmics or Neuromics or because you signed up online. We will send out around one email per month with news of relevance to these projects and to IRDiRC. If you don't want to receive any further newsletters, you can unsubscribe using the link below. If you're reading this online or if it was forwarded by a friend, you can sign up to future editions here.