October 31, 2018
RD-Connect – six years on and outlooks to the future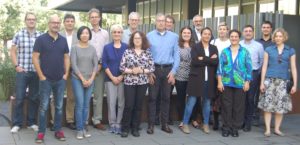 RD-Connect is celebrating its 6th birthday! The project, which launched on 1st November 2012, received a €12M FP7 grant from the European Commission to develop a major infrastructure for rare disease research. During those six years, RD-Connect has proved to be a success story for its funders – it developed a unique platform integrating databases, registries, biobanks and clinical bioinformatics for rare disease research. The platform provides user-friendly tools for data analysis and links different data types – omics (e.g. genomics), clinical information, patient registries and biobanks – into a common resource. By enabling scientists and clinicians around the world to analyse and share data and biosamples, RD-Connect speeds up research, diagnosis and therapy development to improve the lives of patients with rare diseases.
RD-Connect has built three integrated online systems open to any rare disease:
RD-Connect is open for data submissions from researchers and already holds thousands of secure, pseudonymised datasets. Data are linked at an individual per-patient level. Researchers can analyse them, find similar cases and access related information, such as availability of biomaterials. In collaborations with other EU projects, such as NeurOmics, EURenOmics and Solve-RD, RD-Connect has already contributed to the discovery of dozens of novel disease genes.
Even though the project is coming to an end, the RD-Connect infrastructure is continue as part of the BBMRI and ELIXR infrastructures and will remain embedded in the European collaborative initiatives, including the European Reference Networks (ERNs) and the European Joint Programme for Rare Diseases (EJP-RD).
The RD-Connect Community: a new phase in data research for rare disease
One of the key achievements of the RD-Connect project was creating a unique, international community bringing together experts from various disciplines and other stakeholders. To expand and open to stakeholders around the world, the RD-Connect Community was officially established in July 2018.
The RD-Connect Community is an international association for anyone who would like to participate in shaping the rare disease field, promote data sharing and reuse, and advance research. Membership is free of charge and open to organisations, research groups and individuals from diverse backgrounds, engaged in rare disease research anywhere in the world. The interest in the Community is high – we have already received 130 registrations from 28 countries, covering all continents except from Antarctica!
The RD-Connect community will continue to be led by Ivo Gut at Centro Nacional de Análisis Genómico (CNAG) in Barcelona, Spain, where also the new coordination office is be located. CNAG is a non-profit organization funded by the Spanish Ministry of Economy and Competitiveness and the Catalan Government through the Economy and Knowledge Department and the Health Department. The second highest sequencing capacity in Europe places CNAG among the top genomics centres in the world. CNAG is highly involved in rare disease research and by providing and developing the RD-Connect Genome-Phenome Analysis Platform, it plays a central role in RD-Connect as well as the Solve-RD project.
Ivo Gut, Chair of the RD-Connect Community Executive Committee says "We have achieved so much over the last six years, I am excited to lead the Community as we grow and expand. I encourage anyone interested in improving data sharing for the benefit of rare disease patients to join us."
Hanns Lochmüller, the previous scientific coordinator of RD-Connect, says "It was a privilege to lead RD-Connect as an EU project for some many years, and now I am pleased to watch it move into this new phase, the tools, resources and community that we have established will only continue to grow".
Interested in helping us in our mission? Join us today!